Our teaching
Our reseach and development team have put together a number of interactive educational methods to develop knowledge, interpersonal skills and intercultural know-how.
Our teaching is based on Intercultural Management concepts of Intercultural Management and in-depth knowledge of international situations to highlight key indicators and to propose aids to facilitate understanding.


The uniqueness of our way of working lies in the fact that it considers different situations from an intercultural aspect, and uses a specific approach.


The objective is to provide participants with the ability to better understand professional behaviour patterns in different cultural environments thereby significantly boosting their operational effectiveness.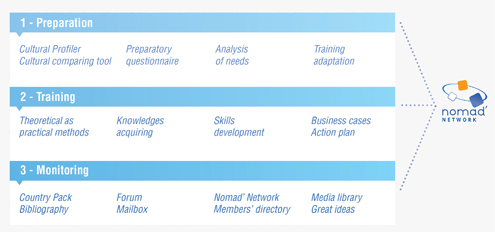 Prepare the training

upstream with the Nomad' Network provides a better return on investment.

From the response frame developed by Akteos, the consultant takes as starting point the participants experience and lead them to acquire tool that will help them adapt in a multicultural context. Exercises and case studies promote the

practical implementation of theoretical contributions.





Monitoring

is proposed after the training to enable them to make the best of it.


The Nomad Profiler, an educational model developped by Akteos, is structured around 10 cultural dimensions.